Council and Society meeting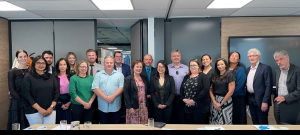 The respective governors from Council and the Pharmaceutical Society recently met. It was an opportunity to discuss the importance of working together on common challenges in an environment of trust and good faith with the principal focus on the values and interests we share.
The key areas of discussion included:
the workload and continued pressures of pharmacists
the role of pharmacists and the many likely increased opportunities
scopes of practice and how broad / fit they are for future roles
the respective roles of each entity and how we respectively may be able to influence various policies and direction
the importance of a consistent understanding and articulation of desired policy positions and outcomes
pending legislative changes (e.g. Medicines Act).
It was acknowledged and reinforced that the roles of each organisation are complementary and in essence, the sum of the parts are best for public safety and for a successful and productive profession.
We will be working together to ensure we gain those complementary benefits and have further initiatives to tackle in 2023 together.
Quarterly Hui
Council was delighted to facilitate another Quarterly Hui in August 2022. These regular hui are a valuable platform for sharing and collaborating on Council activities, as well as discussing the opportunities for combining respective workstreams.
During last meeting we were pleased to gather:
Richard Townley, Pharmaceutical Society
Andrew Gaudin, Pharmacy Guild
Sian Dawson, Hospital Pharmacist Association
Danni Yu, Independent Pharmacist Association
Chris James, Medsafe
Kurt Docherty, Pharmacy Defence Association
Michael Pead, Pharmacy Council
In the last Quarterly Hui we were able to:
provide an update on the standards work
discuss Council's strategic and budget planning process, including seeking views on how we do this and what it might mean for fee consultation processes
mention the Council team changes and what this means for Council's work delivery
discuss the results to matters we had sought feedback on (e.g. pharmacists' access to professional support and MyRecert).
Unfortunately, we have not managed to fit another one in before Christmas but will be setting these up again in early 2023.